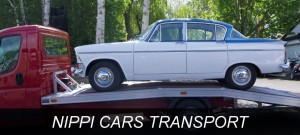 Real independence can be yours with the Nippi – a unique wheelchair accessible vehicle.
The Nippi can be adapted to meet the specific needs of each customer and it is safe, fun to drive and economical to run.
Nippi Cars Limited has made and sold this petrol-powered trike, which can be driven from a wheelchair, since 1984. We also manufacture the Trippi, a three-wheeled mobility scooter that is cool and practical – a rare combination in vehicles for people with disabilities.
With a Nippi or a Trippi there's no need to rely on others to get you out and about.
There's no restriction on speed and distance as there is with battery-run scooters.
Both disabled vehicles are powered by Piaggio and share the style of the chic, Italian scooter company.
They can be driven on a provisional licence.
Thousands of people with disabilities, across the UK and abroad, have benefited from the high level of customer commitment and after-sales service that we offer. We assess the mobility needs of every customer and always offer a demonstration of our mobility vehicles. Request a brochure, book a demonstration or contact us today.