The Trippi – is it really the coolest petrol driven mobility scooter on the market today?"
Our customers seem to think so. They love it because they say it looks nothing like the traditional mobility scooters – they call them 'granny scooters' – for the disabled or the mobility-impaired.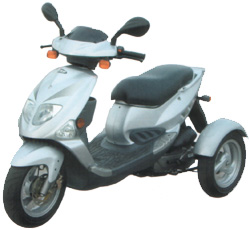 The Trippi also offers massive benefits over the traditional battery-operated mobility scooter. It runs on unleaded petrol making the Trippi much faster than a battery-powered scooter – it can achieve speeds of more than 35 mph with ease. It can also cover unlimited distances. Watch our videos to see it in action.
Powered by the technology of PGO, the Trippi is safe, stable and comfortable thanks to its three-wheeled design. A large luggage compartment provides plenty of room to store your helmet when you break your journey.
The Trippi trike is ideal for commuting, shopping trips and getting you out and about enjoying the sights and sounds of the town and country. You can drive a Trippi tricycle on a UK provisional licence and road tax and maintenance are low-cost.
The Trippi has a unique rear wheel drive, Italian 12″ alloy rims which feature 190mm brake disk with twin piston calliper. It has a high illuminative head lamp and three individual instruments – RPM, speedometer and fuel gauge – for easy reading. Visit the Trippi specifications page to find out more about its performance and dimensions.
If you want to experience the freedom of the open road, riding a fun, safe Trippi, call us on 01283 520620.
Or just Contact us and we'll get back to you.