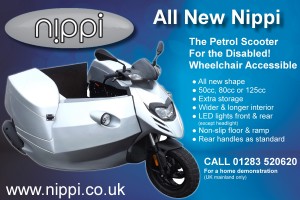 Here at Nippi vehicles we've been working hard to design a greatly improved Nippi to make our customers lives easier and more stylish than ever!
Its new features have all been designed to make it simpler for you to hit the road and explore new places…
The all new shape brings to the Nippi up to date with much more modern bodywork and panels.
Extra storage means that there's even more room for your belongings and will be great for that trip to the shops, or even beach for a picnic! More storage will be invaluable when ?you are taking advantage of your new found freedom and will mean there is always space for your essentials when travelling!
The wider and longer interior also means you won't be worrying about space any more, it will make your journey a more enjoyable experience as you won't be feeling cramped and will enable you to make the most of your independence.
LED lights on the front and rear of the New Nippi are another excellent feature we have used to improve our vehicles. They again give a modern feel to the New Nippi and are brighter and more efficient.
The non-slip floor and ramp is another aspect of the New Nippi which will make your life that bit easier! There will be no need to worry about accessing your New Nippi safely as this fantastic non-slip flooring will make it a breeze.
Rear handles are now featured as standard on the New Nippi and this is another feature which will make accessing your New Nippi easier and safer.
If you like the sound of the New Nippi with all its greatly enhanced features feel free to give the office a call today!