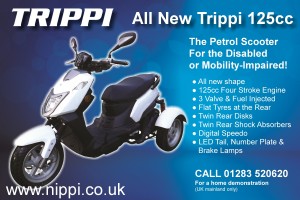 New for 2014, Nippi Vehicles are pleased to be able to present to you the improved and modernised Trippi!
With an array of enhanced features that make this Trippi the best yet, your journeys will be easier than ever and you're sure to be discovering new places in no time…
The all new shape gives the Trippi 125cc an up to date and modern look.
The 125cc ?four stroke engine gives the new Trippi many advantages! It is extremely reliable, quieter than ever, and most importantly more durable and longer lasting, which means you can have the peace of mind you deserve!
The 3 valve, fuel injected engine means that the new Trippi has great power, lower emissions and excellent economy.
The flat tyres at the rear of the new Trippi make it more stable and give it extra grip. ?The flat tyres mean you will feel safe and comfortable, making your journeys plain sailing.
Twin rear disks enable the new Trippi to brake more evenly and stronger.
The very latest digital speedo also adds to the modern feel of the new Trippi.
If you like the sound of the New Trippi with all its greatly enhanced features feel free to give the office a call today!